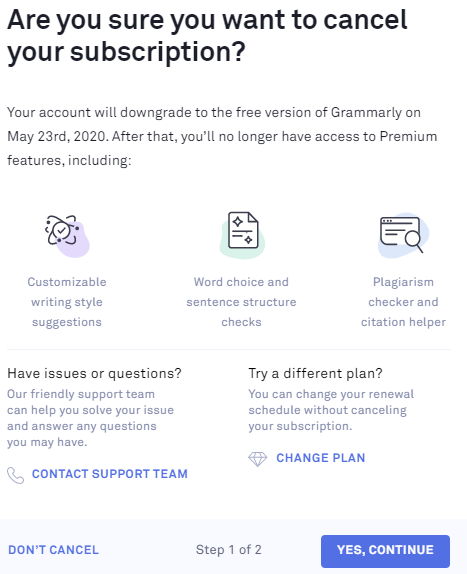 English
learning ways
取得 Grammarly 六折優惠的秘密方法 The secret method to get 40% off discount from Grammarly
2020-05-29
之前因為寫日記的關係,訂了一個月的 Grammarly Premium,最近因為沒什麼東西好寫了,就上去把付費方案取消,結果意外發現可以得到 Grammarly 六折年費優惠。
I had ordered one month Grammarly Premium for writing my journals, recently there is nothing that I can write anymore, so that I attempted to cancel my premium plan, then I unintentionally found out the 40% off discount!
進入帳號管理頁面,Subscription 頁面最下方有個 Cancel Subcription,點它。(如果沒看到這連結,可能是因為目前帳號必須是付費會員)
In order to get this discount, the first step is to go to your account page, there are a "Cancel Subscription" button on the bottomest of the page, click it. (If you can't see the link, perhaps your account should be premium. )

這邊按 YES, CONTINUE。
On this page, click YES, CONTINUE.
接下來選 it's too expensive,就會看到 40% off 的選項了。
Then choose "It's too expensive", then you'll see the option of requesting 40% off.
可以發現原本就算付年費還是要 4260-4400 左右新台幣,打折完後只要 2550-2700。這就是我個人覺得還可以接受的價格了,原本真的是天價。
Now you can see, the original annual plan even costs you $139.95 a year, but the price reduce to $83.97 a year. This is the price that I could accept, the original price is unaffordable for me.
我們來看我們能省多少錢,這是方案列表。
Let's see how much money we can save, this is the plan list.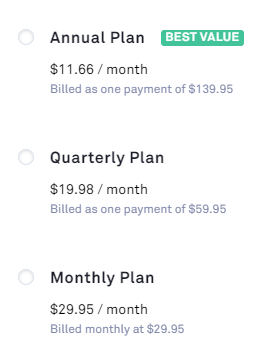 比較表
Here's a comparison.
| | | | | |
| --- | --- | --- | --- | --- |
| $USD Dollars | Monthly | Quarterly | Annual | Discount |
| Per Month | $29.95 | $19.98 | $11.66 | $7.00 |
| Per Year | $359.4 | $239.8 | $139.95 | $83.97 |
如果你不知道 Grammarly 是用來幹嘛的…
簡單而言,它可以校對你的英文寫作,包含拼錯字、同樣的詞用太多、基本文法錯誤、句子易讀性,甚至可以設定使用英式英文或美式英文,也能設定文章內容是給什麼樣的對象看(正式或非正式場合)。免費版本其實就很好用了,如果看到免費版那些「被糾正卻不知道從何訂正起的錯誤」會很不舒服的話,再考慮付費就可以了。
If you don't know what Grammarly is…
In a nutshell, it can correct your English writing, includes misspelling, frently using the same words, basic grammatical mistakes, readablebility of the sentences, even setting to use British or American English, as well as setting the intention towards audience (formal or informal). The free version is good enough, but if you are a guy who'll feel uncomfortable about "you saw you made a mistake but don't know how to figure it out.", than you can consider to get the premium plan.